Currently viewing the tag: "journalism"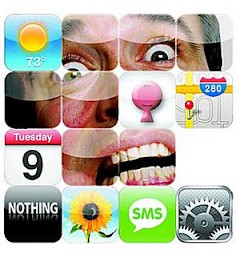 Podcast: Play in new window | Download
This week's episode of Ideafaktory Radio is the first of a three part series with Forbes contributor and Social Enterprise guru Mark Fidelman.  This wasn't even meant to be recorded! Mark deviously taped our private conversation on his iPhone and captured the two of us brawling over the future of apps, among other issues that keep geeks up at night.  In this episode, you'll learn:
Why you don't need to motivate people who work at MTV
Why only rich, hot people should go into journalism
How successful apps get pimped
Why Twitter and Facebook might be #JumpingTheShark #LOL #OMG
Why I don't care that apps are dying as Mark nurses app developers back to health, like Mother Theresa.
How competition cleanses everything except financial services
Don't forget to subscribe to the podcast here and visit ideafaktory for more daring ideas for innovators.
Coming soon: Gregory Essau, a home builder turned sustainable economy missionary.
As a journalism student at NYU, I remember my immigrant dad interrogating me suspiciously about a profession he couldn't possibly understand. He asked me the kinds of questions you'd expect from an engineer who just risked everything to drag his family out of the Soviet Union. "How will you make money?" he'd ask in his thick Russian accent.  "What kind of (stupid) job is writing?" He would have been more proud if I majored in mink skinning or Zamboni maintenance.  Slowly, he chipped away at me until I gave up my journalistic dream.  For the past 10 years, it seemed like my dad's fresh-off-the-boat wisdom paid off.  I was having a successful career in business while the field of paid journalism looked like Courtney Love circa 5 a.m. – a hot mess.
By the early 2000's, the noble craft I studied no longer existed.  Unscrupulous, out of touch, overpriced universities churned o
ut huge surpluses of hopeful journalism grads.  Many of them toiled in unrelated jobs, cranked out technical manuals, or spent their days slaving away for free at Huffington Post – or, polishing Arianna's fleet of jets, yachts and tanks. The good news? Things are about to come full circle.  As I sit, writing a (free) piece for Harvard Business Review, there's an unstoppable, digital force about to transform the field of journalism once again. In this new world order, the journalist will be king. That's right, Walter
Cronkite, Julius Caesar and Mark Zuckerberg are about to have a lovechild.  Though they don't realize it yet, non-writers will also enter the field.  Here's my prediction of how it's going to happen and how journalists can take advantage.  (In a separate piece, I'll write about what large media companies could do about it.)