Currently viewing the tag: "retail"
This is a repost of Steve Faktor's original article on Forbes
To many men, shopping for clothes is like doing your own brain surgery – you're in no condition to know when you've screwed up. Sure, single men must dress up to attract mates. Those poor, unsuspecting women have no clue what fashion nightmares await them. Marriage does to men's fashion what irritable bowels do to romance. Things get even worse at work. The more casual the office, the more likely we are to see mangled toes and bloated bellies. Even billionaires wear outfits that scream "I sleep in a box." Of course, it's the rest of us who need to keep trying. Unfortunately, men's clothing stores have failed miserably. The shopping experience is hardly painless, especially at department stores. They have the most resources, space, and selection, but they're packed with men wandering aimlessly like an exiled Judaic tribe.
When I was at MasterCard, I led a project called Total Shopping Solution. Eventually, we commercialized it as two very successful services, Commerce Intelligence and Commerce Coalition. Over the years, I've thought a lot about intra-store shopping experiences, especially during all those wasted hours looking for clothes to fit my beefy frame. With today's technology and some low-tech ingenuity, department stores can reinvent the men's shopping experience. (After reading this article, I hope they'll also reimburse me for the the years I've lost  trying on ill-fitting pants.)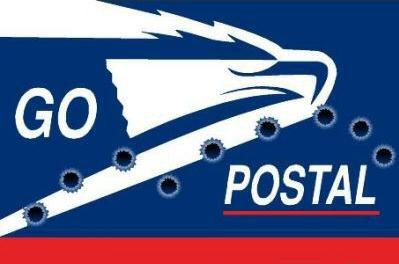 Just got this confidentially from a friend working on this project for the US Post Office… Unreal!
Original Email (names were changed/omitted):
—– Forwarded Message —–
From:  omitted
To: omitted
Sent: Wednesday, Jan 15, 2012 4:54 PM
Subject: Proposal: New Post Office Business Model – Go Postal!
Hi Dave,
To follow up on Tuesday's meeting, below is the summary for the "Go Postal" proposal.  I think the team did a good job.  (Though I think they used the old template.)
This would be quite a shift from what USPS does today and potentially controversial. Would require retraining and capital investment to upgrade the pilot locations. Good news is Andrea spoke with both Legal and Facilities – both say it can be done.  Please let me know your thoughts.
 (name omitted)
From stadiums, to retail stores to restaurants, remodeling works. It helps create an experience, frame your product, and ultimately, generate higher revenues. In the case of many baseball stadiums, the remodeling halo effect lasts for a dozen years. Less, if you have a sub-par product. Toronto Blue Jays, are you listening?
However, if you have a good (or marketable) product, you are doing it a disservice by selling it in a depressing environment. Case and point: Burger King. Last night, my friend was craving a Whopper, so we stopped in at a midtown Burger King. My GOD, the FLUORESCENCE!! Who designed this lighting? Surely, it was Satan. These places are the same as when I was a kid, grease stains and all. As an adult, I am aghast. While, my obvious disdain did not preclude my friend from devouring his Whopper, I know there is a way for Burger King and its brethren to grow up and attract new customers along the way.